MicroRNAs (miRNA) are key regulators involved in various important biological processes including the regulation of cell cycle, differentiation and development, yet the role of miRNAs in stage of cellular proliferation while differentiating at early developmental phases, particularly in human liver, is unknown. In this study, we analyzed the expression pattern of microRNAs (miRNAs) during hepatic trans-differentiation. Human umbilical cord Wharton's jelly derived mesenchymal stem cells (hUC-MSCs) were used in our study. These cells were characterized by assessing expression of MSCs specific markers through immunophenotyping analysis and by evaluating their ability to differentiate into osteocytes, chondrocytes and adipocytes. Further, hUC-MSCs were allowed to differentiate into hepatocyte like cells (HLCs) and differentiated HLCs shared typical characteristics with mature hepatocytes, including morphology, expression of hepatocyte–specific genes at the molecular and cellular level. Moreover, the functionality of HLCs was confirmed through various liver function tests such as periodic acid-Schiff (PAS) stain for glycogen accumulation, enzyme-linked immunosorbent assay (ELISA) for synthesis of albumin and release of urea. Additionally, miRNA expression analysis during hepatic differentiation was performed using next generation sequencing.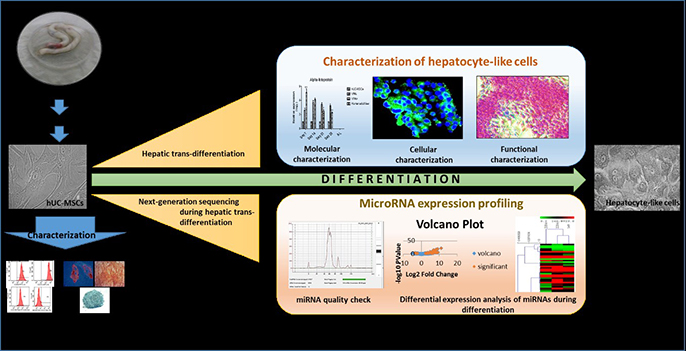 Work Presentation:
Participated in "National Symposium on multidisciplinary research in biomedical & applied sciences" at Mumbai, organized by NMIMS Sunandan Divatia School of Science. Presentation entitled "A Simple and Reproducible Method for Isolation of Mesenchymal Stem Cells from Human Umbilical Cord Matrix" -2nd best poster presentation award
Participated in "5th International conference on stem cell and cancer (ICSCC-2014)" at JNU, Delhi, organized by International Center for Stem Cell, Cancer and Biotechnology (ICSCCB), Pune. Presentation entitled "Modification of histone acetylation facilitates in vitro hepatic trans-differentiation of human mesenchymal stem cells"- Best Oral Presentation award.
Participated in "National Symposium on Stem Cell & Regenerative Medicine" organized by National Burn Center, Airoli.