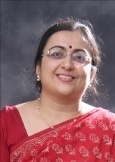 Dr. Purvi Bhatt
Associate Professor, Biological Sciences

M.Sc. (Microbiology), Ph.D. (Biochemistry)

Areas of Specialisation
Molecular Biology, Biochemistry, Reproductive Biology, Cancer Biology
Academic Experience
12 Years

* This includes three years of Postdoctoral research from New York University Medical Center, (NY, USA) [2003-2006] in the laboratory of Dr. James Borowiec. Worked in the area of cancer biology; on the project entitled 'Regulation of Mdm2 activity by nucleolin'

* 4 months teaching experience at Thadomal Shahani Engineering College, Mumbai, teaching B.E Biotech students

* Currently, a full-time faculty at NMIMS University, Sunandan Divatia School of Science since Sept 2007 to date

Publications
Saniya A Laheri, Deepak Modi, Purvi Bhatt (2016). Extra-oviductal expression of Oviductal glycoprotein 1 in the mouse: Detection in testis, epididymis and ovary. Journal of Biosciences (In Press) (Impact factor-1.42).
Vaibhav Jadhav, Shilpee Sachar, Sudeshna Chandra, Dhirendra Bahadur, Purvi Bhatt. (2016). Synthesis and Characterization of Arsenic Trioxide Nanoparticles and Their In Vitro Cytotoxicity Studies on Mouse Fibroblast and Prostate Cancer Cell Lines. Journal of Nanoscience and Nanotechnology, 16(7), 7599-7605. http://dx.doi.org/10.1166/jnn.2016.1166 [Impact factor- 1.556]
Vaibhav Jadhav, Pritha Ray, Geetanjali Sachdeva, Purvi Bhatt. (2016). Biocompatible Arsenic Trioxide Nanoparticles Induce Cell Cycle Arrest by p21WAF1/CIP1 Expression via Epigenetic Remodeling in LNCaP and PC3 Cell Lines. Life Sciences, 148, 41-52 (Impact factor- 2.7).
Juilee Patwardhan, Purvi Bhatt (2016). "Flavonoids derived from Abelmoschus esculentus Attenuates UV-B Induced Cell Damage in Human Dermal Fibroblasts through Nrf2-ARE Pathway. Pharmacognosy Magazine, 12(46), 129-138. DOI:10.4103/0973-1296.179675 (Impact factor- 1.256).
Juilee Patwardhan, Purvi Bhatt (2015). UV-B Protective Effect of Flavonoids from Eugenia caryophylata on Human Dermal Fibroblast Cells. Pharmacognosy Magazine, 11; 44(3): 397-406 (Impact factor- 1.256).
MD Kulkarni, R Shringarpure, P Bhatt, N Prakash, V Prakash (2015). A simple and inexpensive protocol for DNA isolation from avian blood. Journal of Bombay Natural History Society (JBNHS) 112 (1), 3-7.
Mandar Kulkarni, Rohan Shringarpure, Chandra Mohan, Mohini Saini, Tapan K. Palai , Praveen Gupta, Purvi Bhatt, Nikita Prakash, Ashok Bhagwat, Vibhu Prakash (2014). Molecular Sexing of the Critically Endangered Slender-Billed Vulture Gyps Tenuirostris and its Conservation Implications. Journal of the Bombay Natural History Society, 111 (2), 73-80. 10.17087/jbnhs/2014/v111i2/71746.
Kanika Pandit, Ritu Mishra, Brijesh S, Ashok Bhagwat, Purvi Bhatt. (2014). Lipid lowering activity of Feronia limonia leaf in Triton WR-1339 induced hyperlipidemic rats. International Journal of Pharmacy and Pharmaceutical Sciences, 6(8),156-158.
Juilee Patwardhan, Nancy Pandita, Purvi Bhatt.(2013). Comparative Study of Antioxidant Potential of Two Indian Medicinal Plants - Foeniculum vulgare and Eugenia caryophylata. International Journal of Pharmaceutical Sciences Review and Research, 7(2) 312-316
Purvi Bhatt, Claire d'Avout, Naomi S. Kane, James A. Borowiec and Anjana Saxena.(2012). Borowiec, Anjana Saxena. Specific domains of nucleolin interact with Hdm2 and antagonize Hdm2‐mediated p53 ubiquitination.FEBS Journal,279 (3),370-383. [Impact Factor: 3.986]
Kavita Shalia, Sudha Savant, Vijaya Haldankar, Tulip Nandu, Poonam Pawar, Siddhi Divekar, V. Shah, Purvi Bhatt.(2012). Study of C-reactive protein and myocardial infarction in the Indian population. Indian Journal of Clinical Biochemistry (2012) 27 (1),74-82. [Impact factor- 0.35]
Purvi Bhatt, Kaushiki Kadam, Anjana Saxena and Usha Natraj.(2004). Fertilization, embryonic development and oviductal environment: role of estrogen induced oviductal glycoprotein. Indian journal of experimental biology ,42,1043-1055. [Impact factor- 0.753]
Usha Natraj, Purvi Bhatt, Geeta Vanage, Sudhir B. Moodbidri.(2002). Overexpression of monkey oviductal protein: purification and characterization of recombinant protein and its antibodies. Biology of reproduction,67(6),1897-1906. (Impact factor- 3.470)
Completed research projects:
UV-B Protective Activity and the Effect of Plant Extracts on the Regulation of Haem Oxygenase-1 Gene Via Nrf-2 and Antioxidant Response Element (2016)

Synthesis of Arsenic Trioxide Nanoparticles and Their Effect In Vitro on Prostate Cancer (2016)

Ongoing Research Projects
Deciphering the Extra-Oviductal Role of Oviductal glycoprotein1 (received NMIMS Intramural funding of Rs. 1 Lac; October 2015-2016 (1 year)

A Comparative Screening of Biocompatible Arsenic Trioxide Nanoparticles on Cancer Cell Lines

Conference & Seminars attended
National Conference on Role of Chemistry in Health and Diseases held by Mithibai College from 17-19th Jan 2011.
2nd Biennial International Conference on 'New Developments in Drug Discovery from Natural Products and Traditional Medicines' organized by National Institute of Pharmaceutical Education and Research (NIPER) SAS Nagar, Mohali, Punjab-160062 from 20-24th Nov 2010.
International Conference on Medicinal Plants and Herbal Drugs: Challenges and Opportunities in cultivation sustainable utilization and conservation (ICMPHD-2010), held from 4-6 March 2010 at Chennai.
13th International p53 Conference organized at Columbia University on May 20-24th 2006.
Workshops/Symposium/FDP Attended
Faculty Development Program entitled "Contemporary Pedagogy Tools and Techniques", Organized by NMIMS at Mukesh Patel School of Technology Management and Engineering, Mumbai, on 7th – 11th July 2015.
Workshop entitled "Bio-medical communication skills impact on services, education and research" organized by 'Medical Research Centre-Kasturba Health Society & Nanavati Superspeciality Hospital' on 27th – 28th September 2014
UGC-SAP Sponsored National Workshop on Animal cell culture techniques (ACCT-2011) organized by Department of Biochemistry & Biotechnology Annamalai University, Tamil Nadu, India from 18-20th March 2011
NMR Spectroscopy Workshop- Theory and Problem Solving organized by Bhanuben Nanavati Pharmacy College, Mumbai on 11-12 Feb 2011.
Three day Workshop on "Structure and Ligand based drug design" organized by National Institute for Research in Reproductive Health (ICMR),Mumbai- 12 on April 20-22, 2010.
Emotional Intelligence Competency Workshop organized by FEIL & NMIMS University Business School on 28-29th April 2009
Grant Writing Workshop organized by ICMR at Bangalore 21st Jan 2009
Paper Presentation in Conferences / Meetings
Poster entitled "Nucleolin Inhibits Hdm2-mediated p53 Ubiquitination Using Multiple Interactions Bhatt, P., C. d'Avout, N. Kane, J. Borowiec and A. Saxena. Category: Tumor Metabolism and Regulation of Apoptosis." Abstract #4532, American Association for Cancer Research 101st Annual Meeting Proceedings, April 17-21 2010.
Poster entitled " "Study on +1444T/C and – 717A/G polymorphisms of human C-reactive protein gene associated with myocardial infarction in the Indian population" Tulip Nandu, Sudha Savant, Poonam Pawar, Rachana. Mehta, Kavita. Shalia, Purvi J Bhatt, Ashok M Bhagwat, Krutika Desai, V K Shah, M R Mashru, S L Soneji, P K Thakur. Eight Asia Pacific Bioinformatics Conference 2010 organized by NCBS, TIFR and held at IISC., Bangalore from 18-21 Jan 2010.
Poster entitled "Molecular cloning and over-expression of mouse oviductal glycoprotein using yeast expression system" Purvi Bhatt, KaushikiKadam, UshaNatraj presented at National Conference on Recent Advances in Reproductive Health organized by Department of Zoology, University of Rajasthan held at Jaipur from February 6-8, 2003.
Poster entitled "Hormonal regulation of Mouse oviductal glycoprotein, receptors for estrogen and progesterone" Purvi Bhatt, KaushikiKadam, UshaNatraj presented at International Congress on "Fertilization, embryo Development and Implantation" at National Institute of Immunology, New Delhi held from 6th-9th November 2000.
Poster entitled "Molecular cDNA cloning and over-expression of mouse oviductal glycoprotein" Purvi Bhatt,UshaNatraj, presented at 10th annual meeting of 'Indian Society For the Study of Reproduction and Fertility' held at Rajiv Gandhi Centre for Biotechnology, Thiruvananthapuram from 8th-10th September, 1999.
Awards and Honours

Jan 1998 –June 1998 Junior Research Fellow, Indian Council of Medical Research, India
July 1998- July 2001 Junior & Senior Research Fellow, Lady Tata Memorial Trust, India
Aug 2001- May 2003 Senior Research Fellow, Council of Scientific and Industrial Research (CSIR), India
NYUSoM Postdoctoral Council member & Postdoc Quarterly Newsletter editing task [Feb'04-Sept'06]
Invited to participate as a Judge in the New York City Science and Engineering Fair for High School students at City College organized by New York Academy of Science (2005,2006).
Areas of teaching and research interest

Areas of Teaching: Molecular Biology, Cell Biology, Microbiology, Biochemistry
Research Interest: Cancer biology, Nanotechnology, Reproductive Biology
Professional Services/Memberships

Member Secretary, Board of Studies of Biological Sciences for Masters Program at SVKM's NMIMS SDSOS [since 2011 to date]
Member of the Ad-hoc subject Board in Microbiology, Mithibai College (September 2016 onwards)
Life member of The Indian Science Congress Association
Life member of Indian Society of Cell Biology
Life member of Society for Biological Chemists
Life member of Mumbai Immunology Group
Life member of Indian Society for Study of Reproduction and Fertility [ISSRF]
Member of New York Academy of Sciences (NYAS) [2003-2007]
Postdoctoral Council Member and co-editor quarterly newsletter for Postdoc's at NYUSoM [2004-2006]
Invited Talks

"Techniques used in Molecular Biology- Recombinant DNA technology and its application" invited talk at Bhanubhai Nanavati College of Pharmacy on 9th Aug 2014.

"Biotech and Pharma" invited talk at NMIMS, Shobhaben Pratapbhai Patel- School of Pharmacy and Technology Management on 27th September 2008
"Expression of Recombinant proteins using Yeast and Baculovirus expression systems": Recombinant protein meeting at National Institute for Research in Reproductive Health (ICMR) on 3-4th April 2008.
Current academic & research activities

Teaching Recombinant DNA Technology, Molecular biology, Cell Biology, Proteins and Proteomics, Genes and Genomics, Clinical Immunology and Microbiology to M.Sc., Integrated M.Sc., Integrated M.Sc.-Ph.D., Ph.D. students of Biological Sciences (SDSOS) and 5-Year Integrated M.Sc. Biomedical Science
Conduct practicals for subjects such as Proteins and Proteomics, Genes and Genomics, Recombinant DNA Technology, Anatomy and Physiology, Clinical Immunology and Methods in Applied Sciences.
Two students successfully completed Ph.D. under my guidance (Ms. Juilee Patwardhan and Mr. Vaibhav Jadhav)
Currently, guiding research work of Two Ph.D. students (Ms. Saniya Laheri and Ms. Maneka Hoonjan)
Member Secretary, Board of Studies for Masters Program in Biological Sciences (2011 to date)
Member of the Ad-hoc subject Board in Microbiology and Biotechnology (BOS), Mithibai College (September 2016 onwards)
Conduct Cell culture workshops at School of Science, NMIMS for Faculty, Postdoctoral, Doctoral and Bachelors students
Conduct Annual SDSOS Open day visit for students from different colleges
Official Email Id
purvi.bhatt@nmims.edu
Offical Phone No.
022 4235 5956