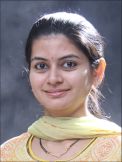 Dr. Poonam Parulekar 
Assistant Professor, Physiotherapy

MPTh.

Areas of Specialisation
Cardiovascular and Respiratory Sciences
Academic Experience
Dr. Poonam worked at the MGM School of Physiotherapy,Navi Mumbai, as a Lecturer before joining School of Science
She was in-charge of cardiac rehabilitation programme
Taught ICU management skills to final year  BPTh  & MPTh students,
Conducted research in physiotherapy with students/interns 
Setup first pulmonary rehabilitation program in MGM Hospital.
Areas of Research 
MPTh thesis project was entitled 'Effect of PNF in Ventilated patients'.
Currently, guiding three MPT students working in the area of child health and lung function. 
Current Academic and non-Academic Activities

Presently, involved in various academic and administrative activities at SOS, NMIMS

Placement Advisor for MPT students.

Membership / Fellowship of Professional Societies

Life member of Indian Association of Physiotherapists
Certifications

Basic Cardiac Life-support Course (American Heart Association guidelines) 
Health Sciences Educational Technology (MUHS)
Official Email Id

poonam.parulekar@nmims.edu