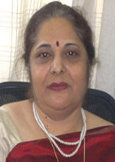 Dr. Nancy S. Pandita
Professor

Ph. D. (Organic Chemistry)

Areas of Specialisation
Phytochemistry
Academic Experience

8 Years

Industry Experience

22 Years

Publications
Books: 2
Research Papers: More than 70
Reports: Two Dossiers on Saracaindica and Azadiarachtaindica
Patents: 4
Awards
UGC fellow during Ph.D.
Best Research Award in 2009 in NMIMS Deemed to be University.
Six P. D. Sethi Awards for best Research Papers - 2011, 2012, 2013,2014
Area of Researchs

Dr. Nancy Pandita has done work on number of plants/herbals/Ayurvedic drugs. She has expertise in isolation of chemical constituents from plants, their standardization, validation by HPLC and HPTLC. She has done a lot of work for drug development and finding new drug candidates from herbals. She has developed a unique method for fingerprinting of plants/formulations by LC/MS/MS.
Current Academic Activities
No. of Ph. D. Students: Eight (Ongoing)
Ongoing Research Projects: Three year research project entitled "Investigations on the Cytochrome P450 (CYP450) interaction potential of some medicinal plants" funded by DBT (Amount: Rs. 38.74 Lakhs).
She has got research projects worth over Rs. 1.33 crore from Government funding institutions such as DBT, ICMR, AYUSH, and BARC besides some industries like Colgate and Gufic Biosciences Ltd.
Professional Services/Memberships
Member Board of Studies SNDT University
Moderator for M.Sc. at SNDT University
Interview Panel of SNDT University
Editorial Board of BMJ
Editorial Board of International Journal of Chemical and Pharmaceutical Research (IJCPR)
Honorary Secretary of C.B. Patel Research Centre
Reviewer of Journal of Pharmaceutical Chemistry
Reviewer for Journal of planner Chromatography