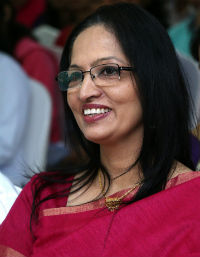 Dr. Aparna Khanna
Dean

Ph.D., MDBA, M.Sc., B. Sc.,

Areas of Specialisation
Life Sciences
Academic Experience

20 years

Industry

Experience


8 years

Publications

Invited talks (National & International) : 50
Articles published : 40
Book Chapters : 2
Recent Publications

Shreelekha Dutta, Aparna Khanna (2017). Aglycone rich extracts of phytoestrogens cause ROS-mediated DNA damage in breast carcinoma cells. Biomedicine and Pharmacotherapy..84:1513-24.
Shruti Sanjay Taparia, Aparna Khanna. (2016). Procyanidin-rich extract of natural cocoa powder causes ROS-mediated caspase-3 dependent apoptosis and reduction of pro-MMP-2 in epithelial ovarian carcinoma cell lines. (2016) Biomedicine and Pharmacotherapy. 83:130-140.
Chitrangi S, Nair P, Khanna A. (2016). Three dimensional polymer scaffolds for enhanced differentiation of human mesenchymal stem cells to hepatocyte-like cells: A comparative study. Journal of Tissue Engineering and Regenerative Medicine. (Epub. doi: 10.1002/term.2136
Raut A, Khanna A. (2016). Enhanced expression of hepatocyte-specific microRNAs in valproic acid mediated hepatic trans-differentiation of human umbilical cord derived mesenchymal stem cells. Experimental Cell Research. 343(2): 237-247
Sanganeria P, Chandra S, Bahadur D, Khanna A. (2015).Effect of HSA coated iron oxide labeling on human umbilical cord derived mesenchymal stem cells. Nanotechnology. 2015 Mar 27;26(12):125103
Patents

Pluripotent embryonic like stem cells derived from corneal limbus, method of isolation and uses thereof. (2006) United States patent Application No: 20060216821
Establishment of a human embryonic stem cell line using mammalian blastocysts (2006). United States Patent Application No: 20060286544.
In vitro assay methods for classifying embryotoxicity of compounds (2007); WO/2008/107912
Methods of Characterization of Mammalian Embryonic stem cells by Multiplex PCR (2009). WO/2009/087681
A Method Of Obtaining Mesenchymal Stem Cells, Medias Method And Composition Thereof (2010). Patent filed vide patent application number 60/CHE/2010.
Awards

2013-2016 : DST Grant - Synthesis and characterization of novel nanoparticles and study of their interactions with stem-cells
2009-2011: DBT-BCIL- (SBIRI) Grant (Avesthagen Ltd, Bangalore)-Hepatocyte-like cells generated from human embryonic stem cells (hESC) for hepatotoxicity screening of xenobiotics in the drug discovery process.
University of Colorado Health Sciences Centre, Denver, USA; Identification and characterization of the HCV RdRp gene and its role in viral replication.
1999-2000: DBT Overseas Associateship (Rajiv Gandhi Centre for Biotechnology)
1998-2000: DST Young Scientist Award (Rajiv Gandhi Centre for Biotechnology) Cloning and expression of the RNA-dependent RNA polymerase gene (RdRp) of HCV.
1995-1996: Wellcome Trust Post-Doctoral Award (Institute of Virology, University of Glasgow, UK) May 95-April 96, Institute of Virology, Glasgow, UK; Characterization of Indian isolates of hepatitis C Virus (HCV) and study of envelope genes.
1987: Joint CSIR-UGC NET Examination
1987: GATE-87
Areas of Research

Dr Khanna's doctoral work involved molecular and cellular characterization of the hepatitis C virus (HCV) and development of an immunodiagnostic assay using the capsid protein of HCV. Her post-doctoral work included the characterization of Indian isolates of HCV and mapping the immunodominant region of the HCV envelope protein using synthetic peptides.
Subsequently, Dr Khanna has been working in the area of stem cells since 2003. Her group was the first to report the establishment of a characterized human embryonic stem cell line from the Indian subcontinent in 2006.
Her current focus of research is design of novel nanoparticles for stem cell tracking, miRNA regulation and role in stem cell differentiation and scaffolds and biomaterials for tissue engineering, in the stem cell area. Dr Khanna is also involved in projects related to evaluation of hepatoprotective activity of phytoextracts, effect of phytoextracts in modulating breast carcinoma cells and ovarian cancer, using cell lines as a model system. Further, studies to ascertain the mechanism of action of the phytoextracts have been undertaken.
Current Academic Activities
Teaching: 5 Year Integrated MSc in Biomedical Science/MSc/MSc-Integrated program (Cell biology and Stem Cells)

Mentor for Ph. D. Students: 4 (Completed): 2 (Ongoing)

Professional Services/Memberships

Recognized Guide (M. Sc. and Ph. D.) – University of Mumbai and University of Kerala
Thesis Examiner – University of Pune
Life Member– Biotechnology Society of India, New Delhi (BSI)
Life Member – Indian Society of Cell Biology (ISCB)
Charter Member– International Society for Stem Cell Research (ISSCR)
Reviewer for Journals – Differentiation , Stem Cells Development, Stem Cells, Drug Discovery Today, Yonsei Medical Journal, Cell Proliferation, Cell Biology International, Cytotherapy, Stem Cell Reviews and Reports, Indian Journal of Experimental Biology
Former Associate Editor – Journal of Stem Cells, Nova Publishers
Co-Editor-In-Chief- Biomedical Research Journal, NMIMS Sunandan Divatia School of Science