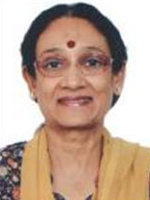 Dr. Dhananjaya Saranath
Professor, Sunandan Divatia School of Science

Ph.D. (Applied Biology), Cancer Research Institute, University of Mumbai

Areas of Specialisation
Molecular Oncology
Academic Experience

30 years

Industry Experience

12 years.

Publications
Research articles published: 75
Book Edited: 1 book on 'Contemporary Issues in Oral Cancer'
Awards
Lupin Visiting Fellow, 2004-05, Institute of Chemical Technology, Mumbai
Sandoz Oration Award of Indian Council of Medical Research, 1991
Subject:"Oncogenes in tobacco-induced Oral Cancer – Implications and Perspectives in therapy in India".
Prof. Rudolf Fries Indo-German Award, 1991
Second International Congress on Oral Cancer, Dec.1991, New Delhi ; Paper: "Oncogenes in tobacco-induced Oral Cancer".
Best Poster Award, 1991; International Symposium on Local Immune Reactivity in the Tumor ; Transplant Microenvironments, Sept.1991, Poznan, Poland. ; Poster: "Oncogenes in tobacco related human Oral Cancer".
Principal's Award, Sophia College, University of Bombay, 1967, for standing First in Zoology, B.Sc. Degree.
Area of Research

Dr. Saranath has extensive experience in the field of molecular oncology, with pioneering work in understanding the molecular basis of human cancers using oral cancer as a model system. The past ten years of her career focused on clinical application of molecular biomarkers in cancer, infectious diseases, genetic diseases and life style diseases. Her familiarity with contemporary research using state-of-the-art technologies such as microarray systems, tissue array systems and genome wide single nucleotide polymorphisms, helped develop clinico-pathological diagnostic, prognostic, preventive and predictive molecular markers in cancer, facilitating development of a reference molecular diagnostic laboratory for high end molecular and genetic testing facilities, with about 300 individual tests for use by Physicians/Hospitals/Corporate clients and walk-in patients.
Current Academic Activities
Senior Research Consultant, Foundation of Medical Research, Worli, Mumbai; April 2012 – to date
Head, Research Studies, Cancer Patients Aid Association, Mumbai; April 2012 – to date
Professional Memberships
President: Association of Molecular Pathologists, India, 2010 – to-date
President: Indian Association of Cancer Research, 2000 – 2003
Founder Member: International Academy of Oral Oncology, Councillor, 2005 – 2007
Director: Head and Neck Cooperative Oncology Group, 2004 – 2007
Indian Association of Cell Biologists, Executive Member 2003 – 2005
Life Memberships
Indian Association for Cancer Research
Indian Immunology Society
Society of Biological Chemists, India
Endocrinology Society of India
Action Council Against Tobacco, India, Executive Member 2001-2004