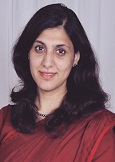 Dr. Anshula Pandey
Associate Professor (Statistics)

B.Sc., M.Sc., Ph.D.

Areas of Specialisation
Statistics, Econometrics, Analytics, Risk Management, Strategic Planning
Academic Experience

2 years

Areas of Research

10 + years

She has over 12 years of experience, with over 10 years in the Telecom, Finance and Software industries, and has been actively involved in providing analytical solutions, targeting customer issues around risk management, predictive modelling, budgeting and planning and customer analytics.

She has been associated with companies such as Deloitte, SAP and SAS in providing analytics based solutions to various industries, including Banking and Finance, Insurance, Manufacturing, Telecom, Retail and Pharmaceuticals. She has also been an academician and started her career as a Lecturer of Statistics in Mahila Vidyalaya PG College, an institute affiliated to the University of Lucknow.

PROFESSIONAL SUMMARY
MANAGER – ENTERPRISE RISK MANAGEMENT – DELOITTE INDIA

Working with key stakeholders in the management, especially in the BFSI industry, to identify the threats and risks associated with the industry/business and suggest, demo and implement solutions to monitor and mitigate such risks, as well as help the business with regulatory compliance. Managing a team of associates, junior and associate managers to deliver Risk Management solutions.

SPECIALIST – SOLUTIONS FOR THE OFFICE OF CFO & PREDICTIVE ANALYTICS – SAP INDIA

Working with the Chief Financial Officer, Chief Risk Officers, and Head of Internal Audit & Assurance to understand their business processes and help introduce the value proposition of offerings by SAP in those areas. My responsibility involves:
Deal Qualification
Solution Introduction with Business Stakeholders
Present Engagement Plan and Agreement
Internal Team Co-ordination and Engagement Execution
Deal Closure

PRACTICE HEAD (CONSULTANT) – ANALYTICS – CUSTOMER CENTRIA

Freelance consulting for developing and executing the go-to market strategy Customer Centria for its Analytics solutions, using KXEN - data mining and predictive analytics software

BUSINESS MANAGER - SAS INSTITUTE (INDIA) Pvt. Ltd

Direct relationship management with the key officials of financial sector regulators, commercial banks and other financial institutions like Insurance Companies and NBFC's to understand processes and accordingly suggest and fit solutions, with special focus on Risk Management (market and operational risk, ALM/FTP, AML, etc), Fraud detection and Business Intelligence
Worked with the State Governments for application of statistical based methods and software across different policy spheres like health services, social welfare, law and order, revenue management and education

MANAGER- SALES AND BUSINESS DEVELOPMENT - AIRCOM INTERNATIONAL

Worked with telecom service providers (BSNL, Idea, Vodafone) and telecom vendors (Ericsson, Nokia Siemens Network, Alcatel-Lucent and Motorola) for Wireless Network Planning, Optimisation and Benchmarking Services.
Led a mid-sized team to establish a new division – Aircom Contractor Services – to provide highly specialized services in the Telecom Sector on contractual basis.

GUEST LECTURER – WIGAN AND LEIGH COLLEGE – LUCKNOW

Teaching Analytics and Business Mathematics to MBA Students

LECTURER – MAHILA VIDYALAYA PG COLLEGE – LUCKNOW

Taking Statistics classes for Graduate and Post Graduate Students
Leading and nurturing the team for Cultural events, activities and competitions.
ACADEMIC BACKGROUND
Ph.D in Statistics on 'Contributions to Estimation of Parameters in Sampling Theory'
Master of Science in Statistics, University Of Lucknow, 2004. (Position Holder) – 83.8%

First Position in order of merit
Won six gold & one bronze medal and awarded 'Outstanding Student for 2004'

Dissertation on 'Bayesian Decision Theory'
Presentation on 'Break-Even' Analysis

Bachelor of Science with specialization in Statistics, Physics and Mathematics, University of Lucknow, 2002. Distinction holder. – 78.78%
PAPERS PUBLISHED

• Ratio Type Estimator Of Square Of Coefficient Of Variation Using Qualitative Auxiliary Information - Journal of Reliability and Statistical Studies (ISSN: 0974-8024) Vol. 1, Issue 1(2008) 42-47

• A Class Of Estimators In Double Sampling Using Two Auxiliary Variables - Journal of Reliability and Statistical Studies (ISSN: 0974-8024) Vol. 1, Issue 1(2008) 67-73

AWARDS ACHIEVEMENTS & EXTRACURRICULARS

Presented a Lecture on "The importance of Statistics in Risk Management" at the International Conference on Statistics and Related Areas for Equity, Sustainability and Development – 2015
M.Sc. (2004) Statistics with First Position in order of merit from the University of Lucknow
Awarded 6 Gold and 1 Bronze Medal:

Pt. Debi Sahai Mishra Gold Medal: For standing First at the M.Sc. Examination of 2004.
Gall Memorial Bronze Medal and Prize Books: For being the best M.Sc. II student of Canning College.
Smt. Madhuri Devi Memorial Gold Medal : For obtaining the highest percentage of marks at the M.A / M.Sc. part II examinations in Mathematics, Statistics, Physics, Chemistry, Biochemistry, Zoology, Botany and Sanskrit.
Sri Bishamber Nath Srivastava Gold Medal: For securing the highest marks in Post-Graduate Examinations in all Faculties.
Sri Bishweshwar Nath Gold Medal: For obtaining the highest percentage of marks among successful women candidates in the M.A., M.Sc., and L.L.B. Examinations of 2004.
Kunwar Ram Bahadur Shah Gold Medal: For obtaining highest percentage of marks among the successful women candidates in the B.A part III, B.Sc. pass, M.A. II and M.Sc. II examinations of 2004.
Smt. Shanti Devi Sharma Memorial Gold Medal : For obtaining the highest percentage of marks among the successful women candidate at the B.A pass, B.Sc. pass, M.A. and M.Sc. examinations of 2004.

Successfully completed Visharad examination, in Vocal Music, from Bhatkhande Sangeet Mahavidyalaya, in 2003.
Volunteer in the 89th Indian Science Congress, held in January 2002.
Participated in the Sixth Annual Conference of Society of Statistics, Computer and Applications in Dec. 2003.
Took part in various seminars and conferences organized by the University
Official Email Id

anshula.pandey@nmims.edu